George R.R. Martin has FINALLY given us hungry dogs a bone!  He has released a new chapter from the Winds of Winter, the most anticipated book in all of the realm.  While we still wait with abated breath for the new season of Game of Thrones to start on April 6th, here is a tender morsel for your brain.
This is the second chapter he has released of the next book in the series.  And from what I read, it is HUGE.  Wooooo.  Exciting!
WARNING – If you haven't read the books, do NOT read this.  It contains…SPOILERS.
The newest chapter of the Winds of Winter here.  Come back after you've finished reading and let's talk!  What did you think?  Any theories on how it will all end?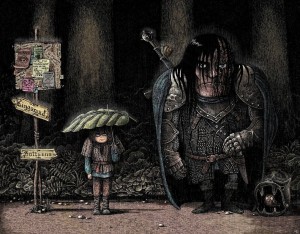 Awesome crossover of A Song of Ice and Fire and Totoro by bubug