Hello Whovian World,
Is anyone slowly dying without any new who?  Because I know I am.  A quick recap of what we (the almighty interwebs) know about the upcoming AND MUCH ANTICIPATED season 8 of Doctor Who:
1. Peter Capaldi is our new doctor and his outfit has been determined.
its black and simple.  no tie, bow or other
shiny shoes!
red satin?
I am not too thrill but what can possibly beat Ten's pinstripe & sandshoes combination? Or Eleven's bow tie extravaganza?  We will just have to wait and see how he develops as the doctor, costume and all.  I think he looks like a magician, especially in this promo shot.  Moffat himself has stated that this new doctor will be much more serious and severe than Eleven.  As of now, the magician look doesn't seem to come across as severe.  But Capaldi is already knowN for his scowling and serious eyebrow action (Angry Owl!) so who knows how his image will evolve.  Also, ANYONE WONDERING IF THE TARDIS IS ALSO GETTING A MAKEOVER!!!!!?????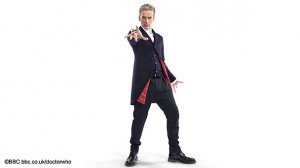 2. We, of course, still have Clara as our companion extraordinaire, which I love.  I can't wait to see how the new Doctor and her relate to one another.  I know that there was definitely an implied chemistry between her and Eleven but I mean, c'mon, the Doctor is a MARRIED MAN.  And as we all know, River Song may be gone but she is also a time traveler so she can always just pop in at any moment.  SPOILERS!  Who else might be coming along for the Season 8 ride? Doctor Who TV reports:
Madame Vastra, Jenny, and Strax are returning!  Who doesn't love the comedy and ferociousness of our favorite reptilian-human couple?  And seeing Strax's reaction to the new doctor should prove to be HILARIOUS. All hail the Pater-Noster Gang!
They also mention possibly….THE MASTER?! Will it be John Simm or are we getting a new reincarnation of the Master?  John Simm has been my favorite actor so far but one never knows what the producers have up their sleeves.  Yes, Moffat, I am looking at you specifically.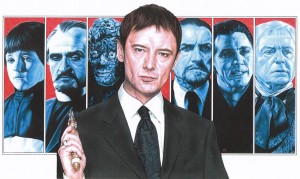 3.  There will be 13 delicious new episodes and if Moffat is to be believed (Rule One: Moffat lies), there will be no break in the middle of the season.  Can it be?  Is it possible?  A continuous season run with no breaks?  Oh glorious day!  The actual start date has not been announced but we hear it will be around Fall 2014.
We know they started filming in January so the timeline is looking good.  Rumored return writers include Mark Gatiss ('Night Terrors' & 'The Unquiet Dead') and fan-favorite, Neil Gaiman ('Nightmare In Silver' & 'The Doctor's Wife').
4. The Daleks are returning.
IMDB reports: "According to a new report, the Daleks will be back in Season 8, specifically because it was requested by new Doctor Peter Capaldi. The Daily Star says Capaldi asked producers to include the evil pepper shakers because he's been a fan since childhood. Not wanting to let a Doctor down, they report that producers agreed."
Of course the Daleks are returning.  Will we ever be free from their curse?  What will the Oncoming Storm do when faced with his oldest enemy?  How will they resolve the timeline issues since the last we saw of the Daleks, they were completely wiped out?  Just as the Doctor cannot seemingly be defeated, neither does our oldest nemesis.  What other villain would you like to see return?
Of course for me, I would love to see the Weeping Angels or the Silence make a grand appearance.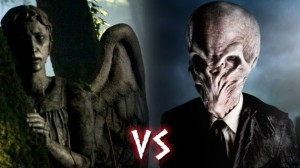 All i know is that come Fall 2014, I will dust off my sonic screwdriver, don my Fez, and shut off my phone.  The doctor is returning.  And I can not wait!
What do you think of these new developments?  Heard any rumors?  Let's pass the time together discussing and imagining what will be coming next while we wait for the new season to start.  Hit the Leave Comment link below this post and lets talk WHO, baby!