The Walking Dead discussion of the month. It looks like it is going to go out with a huge BANG this season. We share our expectations. Among other things, we talk more about Spawn #251 with JonBoy Meyers at the helm. Star Wars Celebration is right around the corner… did someone say MegaCon too?
Other stuff we talk on you ask? Star Wars Celebration, EA Battlefront, Nintendo, Titan Fall 2, NeverWinter, Spawn #251, Jonboy Meyers and Paul Jenkins, Pensacon… whew!
Jen Broomall joins us for a discussion at Pensacon 2015. She shares her vision of her artwork and thoughts on drawing specifics. Check her out at https://www.facebook.com/JenBroomall
We will also be putting a video up on this same interview. Take a look at some of the artwork until then on her Facebook page. Thanks, Jen! You're truly outrageous!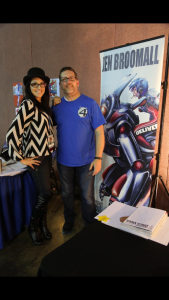 Podcast: Play in new window | Download