We were very pleased to get an email about the press passes to Wizard World's return to Florida. Immediately after entering the con, Eric and Judy greeted me with excitement! One of the best things about this con was the level of courtesy extended to the vendors, press and celebrities … not to mention the attendees! It certainly was our first Wizard World con… and we we hope not our last! They didn't hesitate to help us get to the places we needed or introduce us to people we didn't know! I can't say enough about the level of professionalism.
It was good seeing Cecil GRIMES representing TWD at the con! Always good to see him.. as well as meeting a few more cosplayers which we will talk about soon. (Shout out to @NerdBunnyBritni) Check out our Photo Gallery above for more details.
We got to check out how to have an Avatar transformation…
Discounts to order the Wizard World monthly Box of goodies!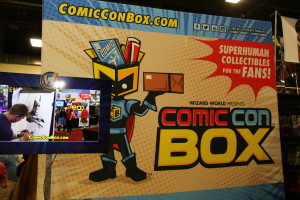 Seeing some of the guest like Rob Liefield and Neal Adams is always a treat… Dean Cain, Sean Astin and Adrian Paul were very pleasant and they show their love to the fans like always!
The attendance was steady… although I wanted there to be more in attendance than I initially saw. Wizard World cons are known for a very good turn out and coming back to Florida was a start in the right direction. I hope they do return and I hope to catch them in another city soon! Check them out at a city near you! (coming up is Tulsa, Austin, Louisville and Reno!) www.wizardworld.com
Special thanks to Eric, Judy and Jerry!!