On this Episode, we talk with one of favorite artist, Jonboy Meyers. A nice sit down discussion of fantasy Marvel teams… cosplayers and why charge for pictures with them…. what's the future hold for JB … here a little and there a little with JB on this episode! Go download it now! Plus! Enter your email address on our website for a chance to win JB's artwork! The entire month of October is showcasing JB.
Check it out now on iTunes or download on the website!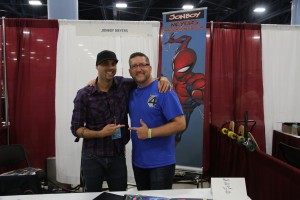 In between putting up pics of NYCC, DragonCon and SLCC… here is our latest podcast. Then more pics!
Podcast: Play in new window | Download