On this Episode, we cross the Geek field with the most recent Con, Collective Con 2016, Cecil Grimes, Ivy Pole…
A quick talk about the audio of The Walking Dead season closer. WHO does it elude to that Negan hit? Our thoughts on the audio. We discuss the Rogue One trailer, Star Wars again! Some new games, but no game time! Titan Fall 2, Doom, the Division (and it's loot).
How would you like a comic con cruise? Wizard World has something for you to think about!
Super Hero movies ranked recently, we talk about the top 10..
Finally, Fantastic Beasts and where to find them.. Harry Potter and what the newest trailer gave us.
A little bit more if you dig deep! Go Like the facebook page follow us on twitter. You can also subscribe to the website and leave a rating on iTunes! Don't wait! We may send you something for your duties!
More to come next week! Including an interview with Cecil Grimes!!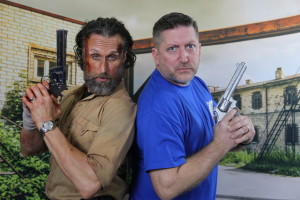 Podcast: Play in new window | Download